DAY 1 (26 June) – Neev 2015 (Welingkar, Bengaluru)
Introduction to Foundation Fortnight -
Foundation Fortnight at Welingkar Institute of Management Development and Research is a fortnight long celebration wherein the Welingkar fraternity welcomes the new batches, familiarizes them with the essence and spirit of the Institute and orients them in the right direction thus preparing them for what lies ahead in the couple of years to come and ultimately LIFE.

Both the Welingkar campuses hold their Foundation Fortnight in close succession usually towards end of June or beginning of July. Welingkar, Bengaluru announced its Foundation Fortnight – Neev 2015 open on 26th, June 2015. It goes on till 10th July.
The Fortnight invites around 50 speakers; all accomplished professionals from different orbits sharing their life experience, success mantra and secrets of excellence with the new batch. A usual day during the fortnight navigates through chapters like – Headlines, the Centrestage, On your Marks, Hello We, Conversations and Hands on. Though the stellar attractions are the guest speakers each one a star in their own right but equally important are the other sessions that familiarize the new batches with the faculty and the ecosystem they are going to make their second home for a couple of years.
The theme this year is - 'Responsible leaders…passionately curious' combining the concepts of "Governance", "Curiosity" and "Passion". The fortnight has been dedicated to John Nash, Nobel Prize winner for Game Theory, who was known for his incisive and curious mind. Nash's life met a sad, sudden end in a road accident on May 23, 2015.
The Fortnight
Spotlighting the broad-based and integrated approach to responsible leadership and governance that integrates curiosity and passion, configuring simple solutions to complex problems that we face today, Neev 2015 sets the students thinking on these issues and also help in identifying emerging areas that warrant attention.
Dr Uday Salunkhe, Group Director, Welingkar along with distinguished faculty and guests extended a hearty welcome to the chief guest Justice N. Santosh Hegde, former Lokayukta, State of Karnataka. Hegde is best known for his roles as a former Justice of India, Solicitor General of India and finally as Lokayukta – State of Karnataka.
Dr Anil Rao, Dean – Welingkar, Bengaluru, took the occasion to introduce Dr. Uday Salunkhe and Shri. Santosh Hegde to the students.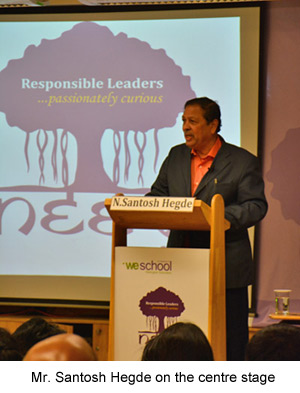 Mr. Santosh Hegde in his message to the students reiterated the importance of an attitude of contentment. He stated that the same would yield boundless happiness which no money could beget. Also, he highlighted the importance of humanism, which sadly, was fast depleting. He expressed his faith that the upcoming talent and generation will nurture the two values as they grow in lives.
Dr (Prof) Uday Salunkhe, during his interaction with the students, mentioned how Bengaluru has been a crucible for innovation. Innovation, in turn does not happen overnight. It feeds on consistency, perseverance, insightful thinking and churning of thoughts. And WeSchool has been playing a leading role, evolving with the times, keeping in sync with the changing demands of the society and the business world in the context. It has been trying to offer the most congenial environment to support innovation and out of box thinking among the youth.
Besides, he stressed the importance of integrity, passion and commitment to the purpose as elementally humane traits; these should be an essential part of their core thought process and governing values. As they move ahead in life making their mark, they should also keep a careful eye on the societal impact of their actions.
Exhorting the students to shift the focus from ME to WE, he advised the students to take initiative and be proactive. Further, he said, that being a passive observer would not help one in leading a successful life and that perpetual optimism is a force multiplier. He closed the session saying "Life is a marathon and not a sprint."
The Upshot: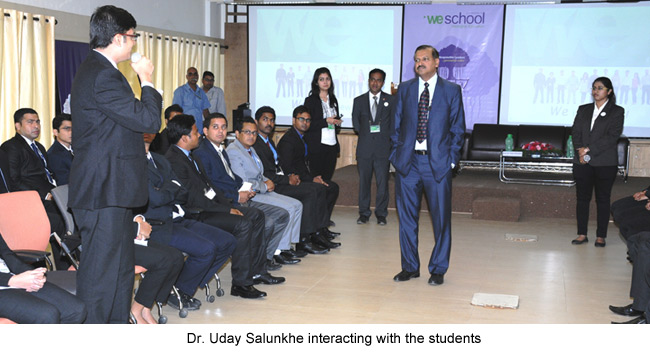 The challenge for business leaders is to ensure the wider responsibilities of business are understood within their organization and in society and to demonstrate how a responsible approach to business can create sustainable value. Business leaders must be seen to act and demonstrate their commitment to creating a fairer society and a more sustainable future by fostering a culture that will encourage innovation, reward the right behaviours and regain trust. Leaders must both exhibit and nurture curiosity coupled with passion to make their organizations deal with a volatile, uncertain, complex and ambiguous world.
Let educators show the way to the youth, train them to rise to the challenges, take the lead and usher in the needed change.