01 July – Neev 2015 (Welingkar, Bengaluru)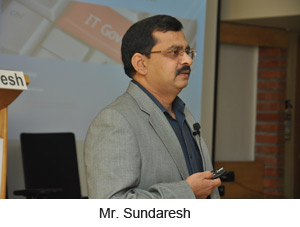 Fifth day deliberations were themed on Governance in IT Industry along with the umbrella theme- Responsible leaders- Passionately curious. The experts were Sundaresh , Founder Envensys Technologies and Rajiv Krishnan, Partner and India Leader, People and Org, E&Y.
Sundaresh started by saying that IT governance is not all about technology. It is more of putting framework of governance around the use of technology in businesses. He mentioned a few fiascos in the space, like Flipkart discount sale, Satyam Computers and the Harshad Mehta scam, saying that these happened due to lack of a fool-proof mechanism to monitor the space. He shared his views on the connect between the IT governance and IT business. He emphasised the fact that Business and governance must be well-aligned. Technology can play a good role here. He signed off saying that better governance leads to better decisions, better portfolio management, better program management and leads to a better climate for innovation.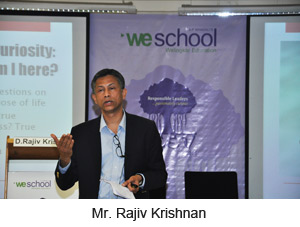 Rajiv Krishnan speaking on the latter theme of Responsible Leaders- Passionately Curious, asked the students to question their purpose of being there. He said at times because of their family lineage people feel they are entitled to certain privileges, which is a misconception. One must learn to unlearn things. In his message to the students he urged them to have general curiosity in the world around them and not to vie for multiple degrees but to nurture an overarching goal in life. They should be also aware of the social norms around them. Besides they should learn to manage partnerships with a sense of equality and to be unbiased towards stereotypes.
Moving on to the next brainstorming session, Welingkar had on the fortnight forum five distinguished panelists. These were Surendra Shahi- Founder Streetappy, Shashaank Singhal, Founder Tapcibo , Arvind Sivdas- Co Founder and CEO Officeyes.com ,Suneel Pillai, Product Manager – Jiyo and Madhur Kathuria- CEO Agivetta Consulting. The discussion pegged on Entrepreneurship.
There were gospels that all the experts agreed upon unanimously. Entrepreneurs should be ready to endure some not so easy phases. As of the triggers to entrepreneurial ventures, these could be myriad; ranging from being bored with the present job to filling a gap between a provider and the needy to creating a product and the desire to see your idea blossom.. The experts had a word of caution-before selling a new product commercially, it should be launched and tested amongst a small section of the users/public. Also value addition should be another important element to be kept in mind in ones business and transactions. Entrepreneurs should be connected with their customers and should have a firsthand knowledge of what they feel about their products and services.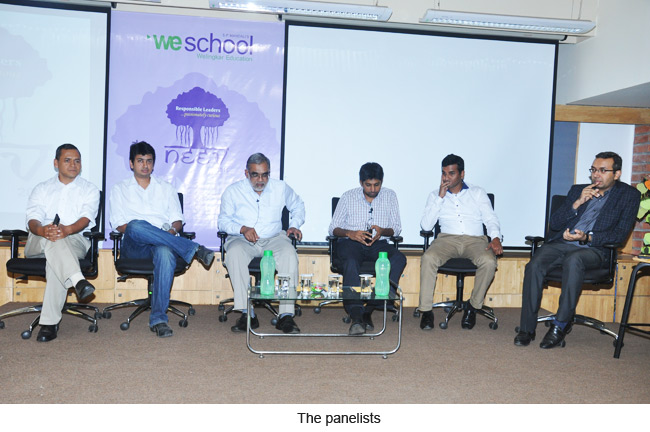 Moving the focus on talent acquisition, the panelists reiterated that is not about getting the best talent; it is about getting a person who has the same passion as yours, at least in the initial stages. Later people with diverse viewpoints can be taken onboard; interns are a good way to bridge the gap. And the most crucial of all was the advice to the aspirants that while pitching for funding, they should customize pitch, considering the perspective of who the listener is instead of rolling out a common script to all.
The day came to an end on a lighter note when the students enacted roles given to them by the faculty with them.