30 June – Neev 2015 (Welingkar, Bengaluru)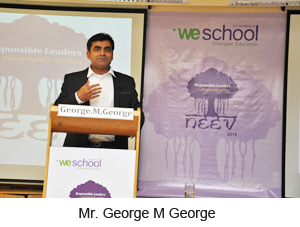 Four days into the fortnight and it reflected in the enhanced comfort levels. Though still there was plenty to be explored. Prof AKN took the lead on this and spoke at length about the city – Bengaluru. Its places, culture and uniqueness and the opportunities it offers.
Under the section Hello We they learnt about the Management Development Centre, Library and the various data bases and facilities they can avail at the Library and IT Lab.
Management Development Centre at Welingkar caters to this need of customized management education for the corporate world. The curriculum is upgraded year after year and, with best of faculties and infrastructural support, the participants come out more confident, more proactive and so more useful to their organizations. As of the Library , Welingkar has one of the finest Library infrastructure facility known as the Learning Resource Centre (LRC).
Centre stage gave the students an interesting opportunity to interact with George M George, Director; Muthoot Leisure and Hospitality. Mr. George charmed his way into the hearts of young audience with his interactive and humorous address. He detested the practice of building businesses and then selling it away. Business should be a passion. He made an interesting point of how one should initiate an idea and then ensure that a targeted segment or public get motivated to accept and own the idea. This will ensure good business and enable one to achieve their objectives. He also asked them to invest time in themselves and nurture a burning desire to achieve their set-goals. He drew a distinction between desire and want and exhorted them to nurture a desire rather than pandering to their wants.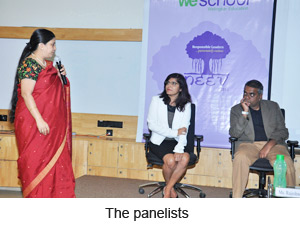 Under conversations, the discussion hinged on learning process. The Panel included Ms.Rajeshwari Ramachandran, Sr. Manager- Wipro, Mr.Kiran Patil – HR Head-Arvind Lifestyle Brands Ltd and Prof. Anuradha Mahesh, Faculty , Welingkar.
Patil advised the students to take their studies and their projects seriously. Rajeshwari stressed on learning-agility as she believed it to be a continuous process. As the students go about their training it should be their endeavor to put themselves through relevant experiences. Also they said that one should proactively support their organization and should work on their social skills and ability to build relationships. We should have our own perspective on issues; and this comes with keen observation, thinking and an analytical mind. Talking in context of career moves one should be mobile. Branding was another concept which the panelists felt was equally important in modern times.
Dr Uday Salunkhe, Group Director had also expressed similar views in the concept of SOS wherein he urged the young talent to focus and work upon Self , followed by Organization and finally reaching out to the Society as they progresses in life.
Next, during, Hands on the students split into teams playing wordsmith. They were given a few words, around which they had to weave a story. More words were announced when a team was just about to complete the story. The students were now required accommodate the new words. This was a interesting to watch and of course to be a part of. In this play of creativity, the students were led by the faculty- Dr. Savitha, Prof. Jyoti and Prof. Deepak. It was an hour packed with fun.